Inspire your team, organisation or community with a keynote that leaves the audience on the edge of their seat.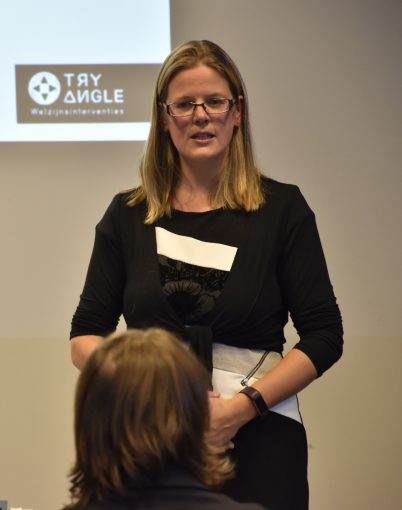 Get Griet Deca on stage if you are looking for:
Well-being at work: myth or reality?
The current burn-out epidemic is impacting our work environment and quickly evolving societal changes are bringing a lot of organizational challenges. We keep being asked to do more in a shorter time frame, which means that conscientious professionals get caught between their job demands and their own well-being. 
Is there a more human centered approach that is suitable for a business context? Or should employees take the matter into their own hands and take responsibility? Is corporate well-being a myth or is it reality?
Working on happiness at work: why, how & what?
It may be hard to imagine, but it is absolutely true: even your company can work on more happiness at work! On the individual level, the team level and the broader organizational level.
This exciting keynote lets you discover how to start building more happiness at work. It will also invite you to rethink a few things and inspire you to take action. Get ready to receive a truckload of tips, tricks and techniques that are easy to implement. It will give you all the information you need to start taking simple steps towards more happiness at work in your own company.
The Happy Pack or the Happy Leader? Both topics will be covered in this keynote which uses the link between leadership and dog agility as an interesting starting point. How can the dog world inspire managers and business leaders and what can managers learn from professionals who work with dogs? How can a leader create a productive and happy team and help them stay that way?
Discover how a Happy Pack Leader can guide the team in the right direction, allowing them to work together efficiently, and getting amazing results.
Transforming a negative company culture into #complaintfreecoffee
"Work?! Working makes me incredibly tired! After all, my employer is only interested in making a profit and doesn't really care about his employees. Even my colleagues are just showing up at the office to browse the internet all day. I'm just counting down to the day I can start my retirement!" Chief Happiness Griet Deca definitely does not agree with statements like these.
It sounds like it's time for a cup of #complaintfreecoffee! After sharing a scientific definition of happiness at work, Griet shares a number of common business practices she's encountered over the years. Unfortunately, there are a lot of unintended happiness killers to be spotted. Which is truly a shame if you know that happiness at work has a solid ROI for the employee, the team leader, and the organization.
From prosperity to happiness at work: a cultural evolution through the eyes of a Chief Happiness Officer
Under pressure from the quest for prosperity and the ethos of hard work, overworked people became ill on a massive scale. There was a healthy awareness that things couldn't go on like this and more and more attention was paid to well-being. Well-being at work was included in the legislation and companies started writing a well-being policy. But in order to fully break the taboo surrounding well-being, an additional impulse is needed. Right now, we are at the tipping point from well-being to happiness at work, an exceptional transformation that follows logically from previous developments.
Griet Deca takes you on a journey through a fascinating world in the throes of change, based on the knowledge and insights she has gathered during her almost twenty-year career as a company trainer. Griet offers concrete tools that provide guidance in the labyrinth of facts, anecdotes and theories so as to ensure that the present (under)currents that health in the workplace could entail, are given every chance of success.
An overview of upcoming events (in English)
Webinar or keynotes with Griet Deca
Currently there are no new events in English planned. 
You can check out the Dutch calender using the button on the right
New events in 2021 to be announced soon                          Online or offline 
Other workshops and webinars
Stop burn-out: Recognise and deal with unhealthy stress
Burn-out. Maybe it's the buzzword of the day.
But what exactly is a burn-out? How can you recognise if you or others suffer from burn-out? Can you help others with burn-out? And above all: how can you prevent burn-out or, if you are already a victim, how can you turn the tide? You'll learn all about it in this keynote.
Stronger thanks to stress
Converting stress from burden to empowerment: fun in theory, but how do you get started? This keynote will help you discover how to turn your potential obstacle into a power tool. You will get insights into which types of stress exist, and the effect they have on body and mind. Finally, we will zoom in on the power of stress. Healthy stress increases your performance drive, makes you alert and boosts your creative brain.
Strengthen your brain, improve your memory
Mental performance is the key to success, but also to the quality of our lives. In this keynote, you will discover how your memory works, you will notice that multitasking does not work and you will learn how to maximise your focus, which will significantly increase your work efficiency. Highly recommended for anyone who has difficulty with time management, setting priorities and making the right choices.
It has been proven for some time that mindful living reduces stress. During this keynote, we will explain the principles of mindfulness and apply them to participants' working reality. We teach them how to be more aware of what they are doing right now instead of worrying about yesterday or tomorrow. We will give concrete tips to allow less stress and create more peace. We will also invite participants to move mindfully.
Ban the frog from your brain
The feeling of "fog" in your head, as if you are living in a "haze" and cannot focus. Sound familiar? Science speaks of "brain fog", quite similar to a "brain frog" that fills your head with tiresome croaking and seems to destroy your concentration with its nervous jumps.
Doing nothing is not an option: in the long run, the fog in your brain leads to a decrease in concentration, memory problems, failing brain functions and even dementia … So, it's high time to clear the fog! Discover how in this inspiring keynote!
Conflict handling: tame the tiger in your language!
Every day, we may come into contact with pronounced and less pronounced conflicts. Dealing with people can sometimes be difficult, and even more challenging when people see things differently from you. Don't really know how to react in these situations? Then this keynote is really something for you! You will discover how to avoid frustration and make room to express your thoughts or feelings. Griet will offer tips and guidance to make you feel more comfortable in a situation where communication is strained. You will also discover how to avoid or handle conflicts using a constructive approach. In short, we will tame the tiger in your language and turn it into a spinning kitten!
How happy are you at work? Are you looking forward to getting started or does it feel more like an obligation? What impact do you have on your happiness at work? Or is it the task of your manager or employer to make sure that you are happy in your job? This keynote will help you discover how you can feel good in your job and how you yourself can make a difference. And yes, it is also possible to work on happiness at work together with your employer. Griet will provide you with inspiration, insights and exercises to take control of your happiness at work – the Smile Guarantee is included free of charge.
The power of constructive communication
Communication. We communicate daily and in various ways, and yet not everyone is equally good at it. The art of good communication is quite a challenge. In this keynote, you will discover how you can improve your communication skills. How can you communicate more effectively? How can you increase the impact of your communication? How do you deal with difficult conversations? Using tips & tricks, insights and practical exercises, you will learn how to turn each communication moment into a win-win conversation based on a positive approach. An absolute must to discover the true power of communication!