Inspire your team, organisation or community with a keynote that leaves the audience on the edge of their seat.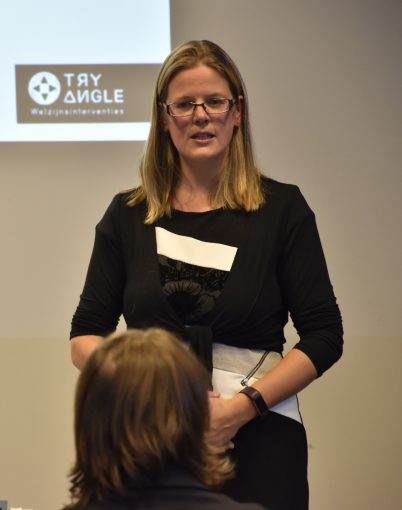 Get Griet Deca on stage if you are looking for:
An overview of upcoming events:
Webinar : How create happiness at work?
How happy are you at work? How happy are your colleagues? Would you like to have a positive influence on levels of happiness or engagement in your organisation? Join this webinar to learn how to do so. We'll share insights and exercises to create happiness at work.
Tuesday, February 25th 2020 – 13h00                                  Online Webinar
Webinar : How to survive as a Chief Happiness Officer?
Are you a CHO? Are you on your own and struggling to make an impact? Join us for this interactive 30 minute webinar where we will share tips and tricks on how to be successful in this important role. 
Wednesday, March 4th 2020 – 9h30                                          Online Webinar
Which topics does Griet cover?
Burn-out. Maybe it's the buzzword of the day.
But what exactly is a burn-out? How can you recognise if you or others suffer from burn-out? Can you help others with burn-out? And above all: how can you prevent burn-out or, if you are already a victim, how can you turn the tide? You'll learn all about it in this keynote.
Stronger thanks to stress
Converting stress from burden to empowerment: fun in theory, but how do you get started? This keynote will help you discover how to turn your potential obstacle into a power tool. You will get insights into which types of stress exist, and the effect they have on body and mind. Finally, we will zoom in on the power of stress. Healthy stress increases your performance drive, makes you alert and boosts your creative brain.
Strengthen your brain, improve your memory
Mental performance is the key to success, but also to the quality of our lives. In this keynote, you will discover how your memory works, you will notice that multitasking does not work and you will learn how to maximise your focus, which will significantly increase your work efficiency. Highly recommended for anyone who has difficulty with time management, setting priorities and making the right choices.
It has been proven for some time that mindful living reduces stress. During this keynote, we will explain the principles of mindfulness and apply them to participants' working reality. We teach them how to be more aware of what they are doing right now instead of worrying about yesterday or tomorrow. We will give concrete tips to allow less stress and create more peace. We will also invite participants to move mindfully.
Ban the frog from your brain
The feeling of "fog" in your head, as if you are living in a "haze" and cannot focus. Sound familiar? Science speaks of "brain fog", quite similar to a "brain frog" that fills your head with tiresome croaking and seems to destroy your concentration with its nervous jumps.
Doing nothing is not an option: in the long run, the fog in your brain leads to a decrease in concentration, memory problems, failing brain functions and even dementia … So, it's high time to clear the fog! Discover how in this inspiring keynote!
Conflict handling: tame the tiger in your language!
Every day, we may come into contact with pronounced and less pronounced conflicts. Dealing with people can sometimes be difficult, and even more challenging when people see things differently from you. Don't really know how to react in these situations? Then this keynote is really something for you! You will discover how to avoid frustration and make room to express your thoughts or feelings. Griet will offer tips and guidance to make you feel more comfortable in a situation where communication is strained. You will also discover how to avoid or handle conflicts using a constructive approach. In short, we will tame the tiger in your language and turn it into a spinning kitten!
How happy are you at work? Are you looking forward to getting started or does it feel more like an obligation? What impact do you have on your happiness at work? Or is it the task of your manager or employer to make sure that you are happy in your job? This keynote will help you discover how you can feel good in your job and how you yourself can make a difference. And yes, it is also possible to work on happiness at work together with your employer. Griet will provide you with inspiration, insights and exercises to take control of your happiness at work – the Smile Guarantee is included free of charge.
The power of constructive communication
Communication. We communicate daily and in various ways, and yet not everyone is equally good at it. The art of good communication is quite a challenge. In this keynote, you will discover how you can improve your communication skills. How can you communicate more effectively? How can you increase the impact of your communication? How do you deal with difficult conversations? Using tips & tricks, insights and practical exercises, you will learn how to turn each communication moment into a win-win conversation based on a positive approach. An absolute must to discover the true power of communication!